Everyone dreams of "Go Digital" but first you have to know HOW to go
The use of a smart business architecture prepares the business for Going Digital. You cannot make a Digital transformation without digitalising the business. Going directly to acquiring or developing applications, and hoping Digital Transformation happens on and of itself, is magical thinking.
Prepare for change

Prepare the business for the unknown

The business shall always be fit for the purpose of reaching its ambitions and goals

Changes are made quickly and frequently

Our architecture approach prepares the business for this type of change

Weeks – not months or years

High Level Architecture(HLA) core architecture: What you need  – nothing more

No details up front

Fast deliveries – weeks, not months or years

You need information

Too much data, too little information

We show you how you should reuse information you already have

Information must be managed as an essential common resource

The key to value creation and flexibility
Tear down data-silos

Data siloes are easy to create, but hard to get rid of

We show you how to de-complexify

We show you the optimal sequence of acquisitions or development of applications

Get rid of waste

Clean up data and application portfolio

You save money, reduce risk, and become flexible.

IRM Architecture Process

Three step process:

Build architecture

Launch change projects

Govern projects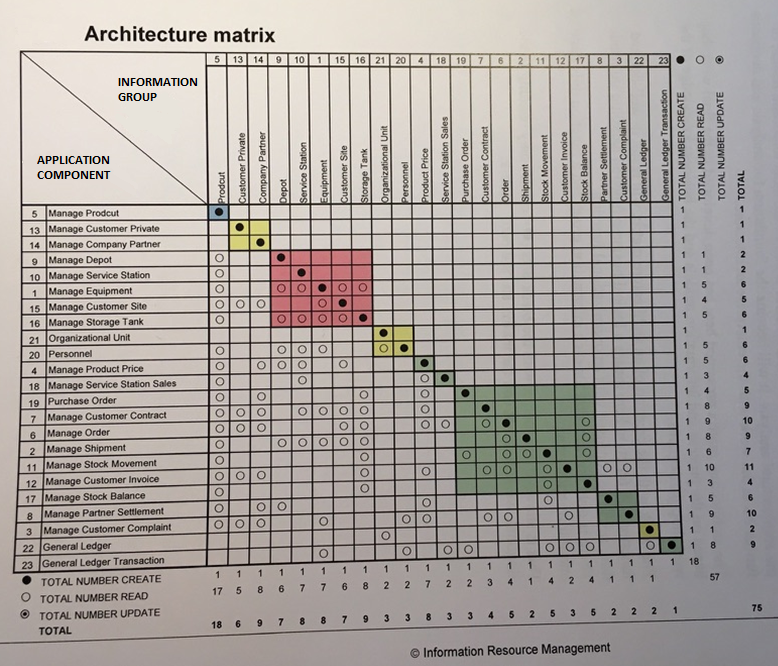 From the information architecture we can derive dependencies between information groups. From these dependencies we can
Find the most effective order to develop an application portfolio
See what risk we have for overruns in projects
Plan how to best coordinate projects
Remove applications with manageable risk
"The digital world is here but our old companies are simply not yet designed for digital"; stated by Jeanne Ross in her new book "Designed for Digital."

These two terms, "data-driven" and "data-centric", are both relatively new. They are both frequently used, and they seem to get much attention nowadays. As with all new expressions their meaning can be vague.  

When you prepare for the unknown you do two things in combination; you clean up the mess and you build pure and simple, open structures that give the right level of flexibility. This will never happen by accident. You will need an architecture tailored for this purpose.